Looking for and finding the perfect gift is a challenge that everyone faces at some point. Many people face this challenge several times a year as they search for the best birthday gift, or wedding or anniversary present - not to mention all the gift-giving that goes on during the holidays. These days, with globalization and the Internet bringing everyone closer together, you may need Chanukah and Ramadan and Kwanza presents in addition to Christmas, Valentine's, and Mother's Day gifts – depending on how diverse your 900+ Facebook friends are.

With so many gift-giving opportunities that keep on coming, one after the other, year after year, it's really not surprising that so many efforts to find the perfect present fall flat on their faces. Here is a list of 10 really awful gift ideas, just to inspire you all to try harder next time:
10 Bad Gift Ideas to Avoid: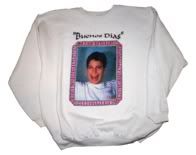 Homemade personalized clothing:Though this has the potential to fall into the "personal and thoughtful" category, it probably won't. Martin Marks writes about getting an overlarge sweatshirt with his face on it on the New York Times blog.
Homemade coupons: "Redeemable for one free hug", "Good for one week of washing dishes," or "Free afternoon nap" only means that you forgot to get a present in time, or that you're 8 years old and it's Mother's Day.
Taxidermy: Stuffed, dead animals are not for everyone. Not even if they serve the practical purpose of doubling as a coin purse, like these tanned toad skin coin purses.
Bathroom scale/Thighmaster/Wii Fit: Defend yourself by saying "But it's good for you!" as you duck the appliance flung straight at your head.
Anti-wrinkle cream: You really should have known better.
Anything from your cupboards: Gifts aren't about being practical, so resist the idea of gifting cleaning supplies or toilet paper. While you may long to be appreciated for your sense of practicality, you will instead be resented for not remembering to buy a gift in time.
Potted Cactus: Nothing points out the lack of romance in your marriage better than the lamest anniversary gift you ever thought of.
Magazine subscription: This is only acceptable if you are someone's elderly aunt from whom a great present is not really expected. And even then, you're not giving any joy, just providing yet another opportunity to practice patience and understanding.
Deoderizing toilet seat: A customer testimonial for the Breeza Deoderizing Toilet Seat explains it all: "The perfect gift for my smelly husband!"
"Cooking for One" Cookbook: It may seem like a good idea to give to your recently divorced sister, but, chances are, she will take it the wrong way.
As everyone knows, the best gifts are the most thoughtful – the ones that really reflect the uniqueness of the recipient or that recall some fond, shared memory. An image in 3D, laser-etched deep in the heart of clear crystal, is a uniquely beautiful way to show someone how you feel, no matter the occasion. 3D Laser Gifts are ideal gifts that won't fail to touch the heart. With this in mind, breathe a little easier next time you're wracking your brain for the perfect gift – 3D Laser Gifts has it covered.